Are you tired of spending hours scouring the internet for the best flight, hotel, and car rental deals for your next trip? Look no further than Skyscanner! This powerful travel search engine allows you to easily compare prices from multiple airlines, hotels, and car rental companies all in one place. In this blog post, we'll show you how to use Skyscanner to find the best deals for your upcoming travels. From planning your trip to booking your accommodations and transportation, we've got you covered. Let's get started!
Skyscanner is a powerful travel search engine that allows you to find the best deals on flights, hotels, and car rentals quickly and easily. To get started with Skyscanner, simply visit their website or download their mobile app.
Once you're on the homepage, enter in your desired destination and travel dates. Skyscanner will then generate a list of available flights from various airlines along with their prices. You can filter your results by price range, airline preference, number of stops, departure time and more.
Additionally, Skyscanner also offers helpful tools like price alerts which notify you when prices drop for specific flights or destinations. This feature enables users to book at the optimal time for maximum savings.
If you're not quite sure where to go yet but are looking for inspiration, try using Skyscanner's "Everywhere" tool which shows the cheapest flight options from your chosen point of origin.
Using Skyscanner is an excellent way to find great deals on travel accommodations while saving both time and money!
Planning a trip can be overwhelming, especially when trying to coordinate flights, hotels, and activities. Luckily, Skyscanner offers an easy-to-use platform for planning your next adventure.
To start planning your trip on Skyscanner, simply enter your desired destination and travel dates. From there, you can browse through different flight options based on price or airline preference. You can also adjust the search filters to include layovers or specific airports.
Once you have selected your flight itinerary, it's time to book accommodation. With Skyscanner's hotel search feature, you can filter results by price range, star rating or location. This ensures that you find the perfect hotel that fits both your budget and preferences.
In addition to flights and hotels, Skyscanner also allows you to book car rentals directly from their website. This is particularly useful if you plan on doing some exploring during your trip or need transportation from the airport.
Don't forget about activities during your trip! Check out Skyscanner's "Things To Do" section where you can discover local tours and attractions in one convenient place.
Using Skyscanner for trip planning takes away much of the stress of coordinating different aspects of travel into one simple platform.
Booking your flights and hotels with Skyscanner is an easy process that can save you time and money. To get started, simply enter your travel dates and destination into the search bar on the Skyscanner website or app.
Skyscanner will then provide you with a list of available flights and hotel options from various providers. You can filter these results based on price, duration, airline, hotel rating, location, and more to find the best deal for your needs.
Once you have found a flight or hotel that works for you, click on it to view additional details such as baggage allowances or room amenities. From there, you can also book directly with the provider through Skyscanner's secure booking platform.
One useful feature of using Skyscanner is their "price alerts" option which notifies you when prices drop for specific flights or hotels via email or push notifications on their app.
Using Skyscanner to book your flights and hotels takes the hassle out of searching multiple websites while ensuring that you get the best deal possible.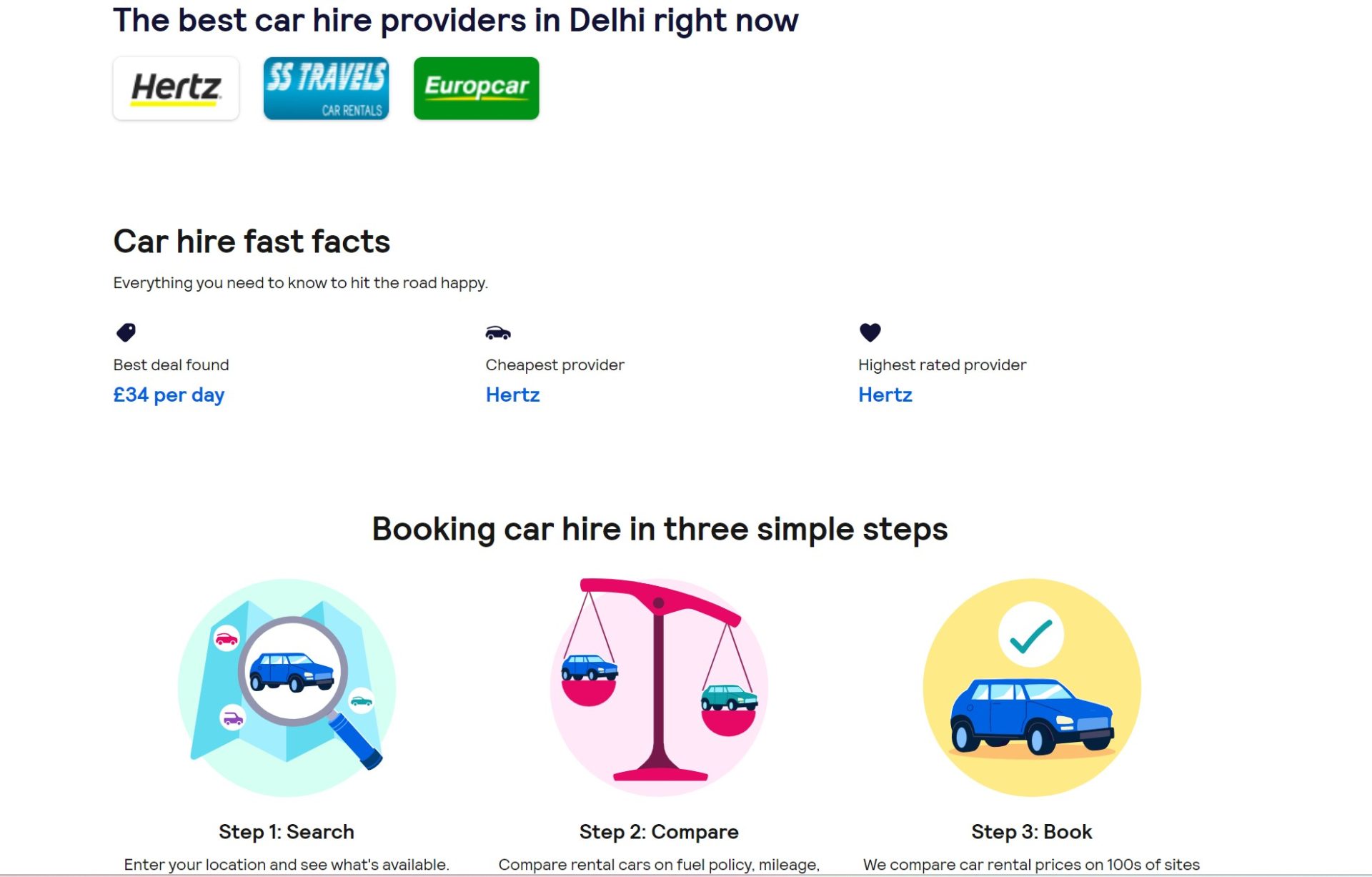 Skyscanner not only helps you find the best deals on flights and hotels, but also offers a convenient way to compare car rental prices. Here's how to use Skyscanner for comparing car rentals.
Firstly, go to the Skyscanner website or app and enter your pick-up location, date and time. Then select 'Car Hire' from the dropdown menu. You can choose whether you want to return the car at a different location or stick with your original pick-up location.
Next, browse through the available options that meet your requirements. You can filter by price range, car type and features such as automatic transmission or air conditioning.
Once you've found a few suitable options, read their terms carefully before booking. Check if there are any additional fees like insurance costs or fuel charges beyond what's advertised upfront.
It's always recommended that you make an informed decision based on all of these factors instead of solely relying on price alone since some cars may come with added perks like unlimited mileage plans while others might have strict cancellation policies.
Using Skyscanner for comparing car rentals is easy and efficient which makes it an ideal platform when planning your next trip!
Skyscanner is the go-to platform for finding the best flight deals to anywhere in the world, no matter where you are departing from. With its easy-to-use interface and advanced search options, travelers can easily compare prices across multiple airlines and booking websites.
To find the best flight deals on Skyscanner, start by selecting "Flights" from the homepage. Then input your departure point, destination, and travel dates to see a list of available flights.
If you're flexible with your travel plans or simply looking for inspiration, use Skyscanner's "Everywhere" feature to browse flight deals from your chosen departure location to any destination around the globe. This is perfect for those who want to explore new destinations without a specific itinerary in mind.
Moreover, another great feature of Skyscanner is their price alerts which notify you when there's been a change in pricing for a particular route that way you don't miss out on any potential savings.
Whether it's an impromptu weekend getaway or a long-planned international adventure – let Skyscanner help take care of all your air travel needs!
To sum up, Skyscanner is undoubtedly one of the most reliable and useful travel search engines available. It offers a comprehensive range of features that can help you discover amazing deals on flights, hotels, and car rentals with ease. Whether you're planning a family vacation or a business trip, Skyscanner has everything you need to make your next journey unforgettable.
So why wait? Start using Skyscanner today to book your dream getaway at an unbeatable price! With its user-friendly interface and powerful search capabilities, finding the best travel deals has never been easier. Happy travels!